Golden Domes and Silver Lanterns
Author: Hena Khan
Illustrator: Mehrdokht Amimi
Paperback
RRP: £5.99
Magnificently capturing the colorful world of Islam for the youngest readers, this breathtaking and informative picture book celebrates Islam's beauty and traditions. From a red prayer rug to a blue hijab, everyday colors are given special meaning as young readers learn about clothing, food, and other important elements of Islamic culture, with a young Muslim girl as a guide. Sure to inspire questions and observations about world religions and cultures, Golden Domes and Silver Lanterns is equally at home in a classroom reading circle as it is being read to a child on a parent's lap.
---
I had seen this book mentioned by a number of mums and it was being highly recommended, so I couldn't resist ordering it myself to see what the fuss was about.
To sum it up Golden Domes and Silver Lanterns is about colours, relating the colours to Islamic items such as a hijab and prayer mat.  In total 11 colours are mentioned but Bee did question where pink was!! (She is a girly girl!).
It is a relatively simple book about colours. But what we loved about is it that it is written in rhyming text and introduces basic Islamic elements to young muslim children or indeed anyone who is interesting in learning more about Islam and Islamic Culture. It is the perfect introduction and some of the items mentioned can be used as a basis for further discussion with older children.
The book also has a handy glossary at the back, to help the readers who are not familiar with some of the terms used such as Minaret and Zakat. The explanations of the words are kept brief and simple.
The whole pages are illustrated which I like in a children's book. It can help keep a child's interest if the pages are colourful. I did find the facial features slightly odd (which if I am honest initially put me off purchasing the book until I read other reviews), but I think that helps with the uniqueness of the illustrations.
Interested in purchasing the book? It can be found on Amazon (affiliate link)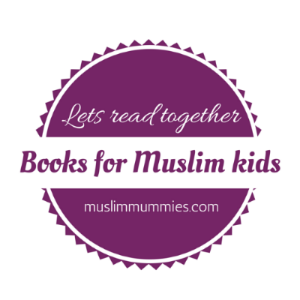 If you wish to join in with a book review for muslim kids then please feel free to add the badge and  to add one link to the linky below. This will remain open until the next review in 2 weeks time.