My Prophet Muhammad صلى الله عليه و سلم
Authored by Yasmin Mussa and Zaheer Khatri
Published by Learning Roots
Picture Board Book.
Soft sponge cover with special glitter, varnish and metallic shine effects.
RRP: £11.99
Age: 1-7 years
My Prophet Muhammad (S) encapsulates the timeless story of the life of the best and final Messenger of Allah, Muhammad (S). Designed for early childhood, this rendering of the Seerah serves as an ideal first acquaintance with the miraculous story of Allah's finest creation. With its vivid illustrations and appropriately rendered authorship, this book is designed to increase your child's knowledge, appreciation and love for the Prophet Muhammad (S).
I had started to hear about Learning Roots a lot recently and decided to give some of their products a try. Initially I purchased a game from them (review to come in a few weeks) and then saw that their books were being highly recommended. Recently I purchased a number of books from them and have to say I am highly impressed by the quality.
Having reviewed a number of books on my blog, I have to say Learning Roots products are becoming one of my favourites. The style and quality is second to none and these are books that I am proud to showcase on my bookcase (when I actually get a bookcase!). The attention to detail is obvious and I love how the book is appealing to the eye. I personally love the glitter effect on the cover.
My Prophet Muhammad صلى الله عليه و سلم is a perfect introduction to the story (seerah) of the Prophet صلى الله عليه و سلم. The essential parts are covered in a basic way, enabling the child to understand the story of Prophet Muhammad صلى الله عليه و سلم and the difficulty that was experienced in conveying this message of Islam to others; 'Worship Allah alone, do what Allah likes, and Jannah will be yours.' The Quraysh are mentioned, the battles are mentioned and finally how the Quraysh finally accepted the message. For older children the book is ideal as a starting point for more detailed discussions.
Each page has colourful illustrations and is pleasing on the eye. Bee loves looking at the pictures and discussing what is happening in each of the pictures.
It can be argued that the price is substantially more than some Islamic children books, but the quality and feel of the book reflects the price. The fact that it is a board book also makes it less likely to be damaged by younger children; well it will certainly last longer than a paperback.
If you are looking for good quality books then products from Learning Roots are a must. I will be reviewing more of the books I purchased over the coming weeks.
You can purchase this book from the Learning Roots website (affiliate link), Click here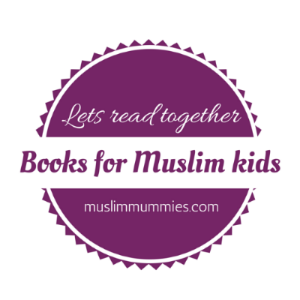 If you wish to join in with a book review for muslim kids then please feel free to add the badge and  to add one link to the linky below. This will remain open until the next review in 2 weeks time.